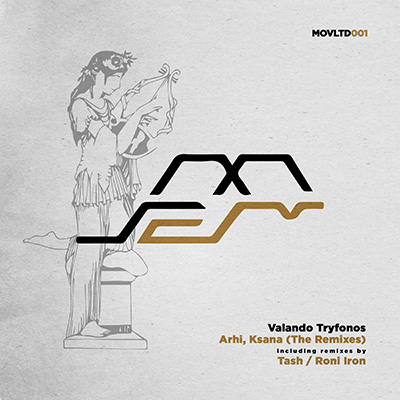 Artist: Valando Tryfonos
Title: Arhi, Ksana (The Remixes)
Remixer: Tash, Roni Iron
Release Date: 15 March 2021
Supported by: Paco Osuna, Eelke Kleijn, BLANCAh, EdOne, Framewerk, KADOSH, Definition, Paul Anthonee, Paul Sawyer, Ibiza Global Radio, Kiss FM, Fly 104, offradio.gr, ao
The first release from Movement Limited finds the label showcasing new interpretations of 'Arhi, Ksana' by Valando Tryfonos. Operating under the umbrella of Greek imprint Movement Recordings, the Limited division looks to showcase special projects, focusing on remix editions of a wide spectrum of electronica, from downtempo through to more club-oriented projects. The label's first release sees Tash and Roni Iron re-modelling 'Arhi, Ksana' by Cypriot singer Valando Tryfonos.
Well known in her homeland, Valando won the first ever Greek Idol TV competition and has shared the stage with some of the country's most prominent concert and theatrical performers. Now diversifying her portfolio further, she finds a place in the electronic world via Movement Limited. Label boss Tash utilizes her impassioned chops perfectly over a bed of mid-tempo beats and exotic percussion. Its soulful nature comes to full fruition during the main break, where striking vocals marry elastic-like effects and otherworldly atmospheres, before perfectly segueing into a stirring finale. For the less vocally inclined there is also a Dub Version included.
The final interpretation of 'Arhi, Ksana' is provided by Roni Iron who has had recent success on parent label Movement Recordings. Based in Athens, the Greek artist has a two-decade long career in electronic music. As a staple in the Beatport, Itunes and Traxsource sales charts, Roni has showcased his music on Balkan Connection South America, Kingstreet Sounds, Nitegrooves, Cafe de Anatolia and Retrolounge Recordings. His latest Movement Recordings vehicle 'Hidden Place' has proved to be a career highlight, adding nicely to his appearances on the label's 'Modern Filosophy' and 'Technical Progress' collections. Here he takes 'Arhi, Ksana' into his world of downtempo breakbeats. Balearic in essence, it's chunky beats and acid-like lines provide a character-rich foundation for soulful instrumentation and ghostly vocal fragments to deliver magic across its five-minute journey. A stunning rendition from Roni, closing out Movement Limited's inaugural release in style. Highly recommended!