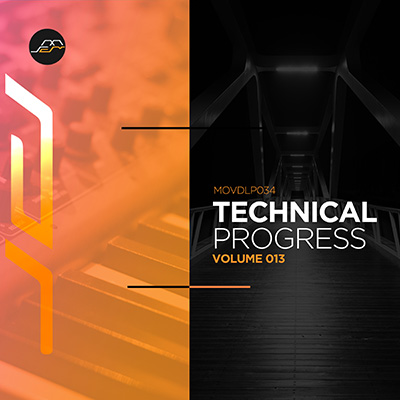 Artist: Various Artists
Title: Technical Progress, volume 13
Release Date: 28 April 2023
Supported by: Black Coffee, Adriatique, Âme, Mind Against, Armin van Buuren, Pete Tong, Guy Gerber, Acid Pauli, Paul Van Dyk, Above & Beyond, Anja Schneider, Mila_Journée, ao
The latest release from Tash's Movement Recordings finds the label presenting a new installment of its 'Technical Progress' series. Conceptualized in 2010 these various artist showcases have grown into one of the underground's most critically acclaimed series, continually featuring some of electronic music's most talented newcomers. With the twelfth edition of the series landing in May of last year with resounding success, Movement Recordings now presents the much-anticipated thirteenth installment featuring exclusive material from (in order of appearance): Bobby Deep Kylian Lake, Rocio Portillo, Valley (AR), Karim Sar Sar, Lateral Shift, Notoir, Nas Horizon and George Harbas, Blac J and Wielki and Globaldancr.
The release begins with Bobby Deep returning to the label for the first time in over six years with his latest studio creation 'Crow'. Known for his timeless style, the Greek artist crafts a profound mood setting piece with dark stabs, groovy basslines, shuffling percussion, and a soulful vocal which ultimately drives a strong emotional narrative throughout. Making his label debut with the second selection is Brazilian artist Kylian Lake. Known for finding a cohesive balance between progressive and melodic house and techno, Kylian's 'Light Side' leans towards the former with it's emotive synth phrasing and chunky, progressive minded grooves. Moving forward, selection three welcomes Rocio Portillo, Valley (AR) and Karim Sar Sar to the label with 'Dark Passenger'. Hailing from Argentina, this trio of rising artists made a memorable impression with their first collaborative effort in 2022 via 3rd Avenue. Continuing to build on that creative synergy with 'Dark Passenger', the trio crafts a spacious progressive builder which eventually reveals strong rhythmic qualities, haunting vocals and a tough yet groovy finale. Fresh off releases for onedotsixtwo and Spring Tube is Lateral Shift who makes his label debut with 'Landslide'. The Australian artist brings a smooth effortless approach to his brand of progressive music, as evidenced by the textural qualities, emerging atmospheres and astral sonics of 'Landslide'.
The collection's halfway point is marked by Notoir's 'Final Encounter'. The Belgian artist and Klank Music owner finds a perfect marriage between groove and emotion with fuzzy chord stabs cleverly coaxing with timely drum flurries and a sturdy dancefloor minded groove. The release's second collaboration finds Nas Horizon and George Harbas combining their extensive forces on 'Meteora'. With a recent contribution to the label's popular 'Prognoesis' series in 2021, Nas and George deliver another astral tinged gem with chunky well-carved grooves, metallic melodies and a rolling percussive theme which builds tension throughout. Indian artist and label debutant Blac J continues the collection's dance floor energy with his latest studio creation 'Oasis'. The emerging Indian artist keeps things tough and driving with a crunchy machine-gun style groove, devilish synths and a trance-inducing break which is sure to captivate the melodic dancefloors out there. Rounding out the release are Wielki and Globaldancr who close the collection off with the smooth emotive qualities of 'Kick Off'. In what is a first time collaboration, the French duo deliver a stunning production with poignant synth phrasing and a warm key changing groove which rounds out the collection on a positive note.