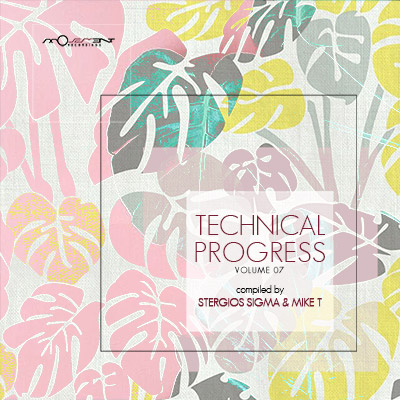 Artist: Various Artists / compiled by Stergios Sigma & Mike T
Title: Technical Progress vol.7
Release Date: 24 July 2017
Supported by: Hernan Cattaneo, Maceo Plex, Olderic, Jerome Isma-Ae, Marc DePulse, BOg, SQL, Cid Inc, Denis A, Marc Poppcke, Li-Polymer, Javier Orduna, Soulbutton, ao..
The latest release on Movement Recordings finds label boss Tash inviting Stergios Sigma & Mike T to compile the latest instalment of 'Technical Progress'. The long running series has been a showcase for fresh electronic music and at times provides a look ahead to future singles on the Greek imprint. Beginning in 2010, the 'Technical Progress' series now embarks on its seventh edition with Stergios Sigma & Mike T curating the project. Featured on the latest edition (in order of appearance) are: Tash, Hans Seance, Paul Angelo & Don Argento, Suffused, Sleg, Ewan Rill and Amber Long, Govinda, Mrntz, dreamAwaken & O.Chelly and Stergios Sigma.
The release begins with the Movement boss himself Tash who delivers a melodic gem in his own inimitable style. 'Balance' comes with incredible musicality, quirky acid lines and a powerful groove for maximum dance floor recognition. A timely production with its summery moods and a great follow-up to his recently released and critically acclaimed 'Sepia'. Moving forward Hans Seance makes his label debut with the wonderfully crafted 'Mekansm'. A deep and trippy production with a late night feel and flowing instrumentation. A superb debut on the label for the Indian artist which follows outstanding releases on Qilla and Beat Boutique. Next up Paul Angelo & Don Argento also make their Movement debut with deep and dark 'Jungle Issues'. A brooding creation from start to finish, highlighted by cross cultural motifs, trippy effects and a flair for the dramatic. The quartet of Suffused, Sleg, Ewan Rill and Amber Long provide the collection's fourth offering entitled 'ORaura'. A pure progressive piece with powerful percussive drive, a wealth of effects and indistinct vocals advancing the narrative at precise moments.
The halfway point of the collection marks the label debut of Govinda with 'Desde El Oceano'. The Argentinean artist delivers an energetic progressive creation that's sure to please both old and new school fans of genre. Backed by a galloping groove, percussive waves and a grinding underbelly it's a piece primed for peak time and with a melodic third act that hits just the right emotional chord. Next up Spanish artist Mrntz also makes an impressive label debut with the techno inspired '376 km'. The Afterlife influence is apparent but Mrntz's own unique style takes it in a spacier more melodic direction which is heady yet emotionally satisfying. Continuing on that stylistic plane dreamAwaken & O.Chelly provide the utterly engaging 'Vaakan'. Tantalizing arps and horn-like motifs complement rugged bass stabs and a smooth percussive cadence, before a cinematic break and wonky third act seal it's brilliance. The release concludes with one of the collections curators Stergios Sigma presenting his latest studio creation 'Hidden Reserves'. Dark, punchy and devilishly hypnotic it's a fitting end to this varied and fascinating collection of music.
The 'Technical Progress' compilations have become much anticipated in recent years and Stergios Sigma & Mike T carry on the tradition with a well rounded assortment of music here. Don't miss it.
Mastering by Movement Mastering
Release PR by Mitch Alexander
Promo Campaign by SMP3
Artwork by MJD Creative
Media by Split Atoms
movdlp017