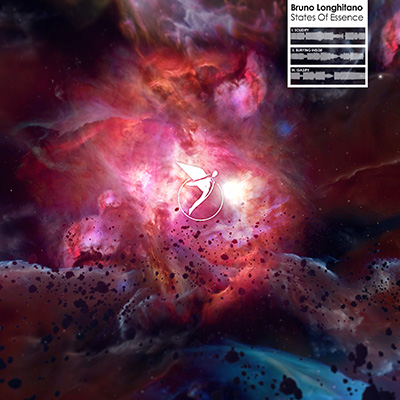 Artist: Bruno Longhitano
Title: States of Essence EP
Release Date: 19 August 2022
Supported by: Tale Of Us, Solomun, Joris Voorn, Innellea, Kevin de Vries, Massano, Øostil, Armin van Buuren, Agoria, ENØS, Yubik, BLANCAh, 19:26, The Element, HeÎk, Wurtz ao.
The latest release on Astral Records welcomes Bruno Longhitano back to the label for his debut EP. Hailing from Argentina, the Rosario resident first emerged in 2019 with releases via Addicted Music and Us and Them Records. Instantly recognized for his haunted minimalism and deep dark melodies, Bruno would go on to record projects for Pursuit and Running Clouds across 2020 and 2021. Also calling Astral Records home, the Argentine made his debut last year with a contribution to the label's popular 'Celestial' collection. Now returning for his first EP project, Bruno presents a three-track showcase entitled 'States of Essence'.
Beginning with 'Gasify', Bruno has crafted one of his most powerful productions to date. Led by a tough yet buoyant groove, its ethereal nature proves to be compelling, with retro effects and strong astral themes dominating a heady first act. Concise at under a minute in length, the main break expands the narrative with a display of pitch bending effects and icy atmospheres eventually melting down into a drop of colourful synth swagger.

The second selection 'Solidify' follows suit with a greater peak time presence as dark cavernous grooves lay the foundation for swirling effects, clattering percussive arrangements and quirky arps. Vaguely industrial, a stripped but tension building second act perfectly preludes the main break, where a storyboard of hopeful sonics gives way to spine tingling effects and a drop that is both striking and timely.

The release concludes with 'Burying Inside' which finds Bruno taking a more introspective approach with spacey soundscapes blanketing percolating lines and pulsating beats. Spanning over a minute in length, the centrepiece bridges the gap between cinematic tension and dancefloor drama, with rising tonal themes and commanding drums eventually culminating in a striking drop and hypnotic finale. It rounds out an excellent artist showcase from Bruno Longhitano, who makes an impressive return to Astral Records with 'States of Essence'