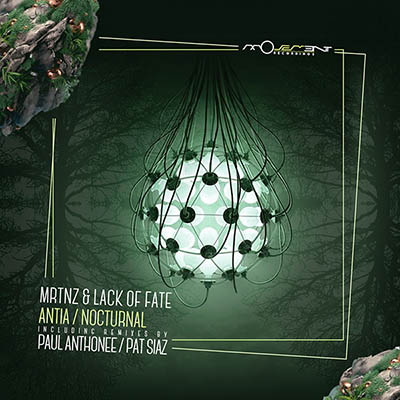 Artist: Mrtnz & Lack Of Fate
Title: Antia / Nocturnal
Remixer: Paul Anthonee, Pat Siaz
Release Date: 5 September 2017
Supported by:  Marco Carola, Joris Voorn, Nick Warren, Ramon Tapia, Denis A, Danny Tenaglia DJ, Jamie Stevens, Lonya, Javier Orduña, Marc DePulse, Olderic, Danito & Athina, Simos Tagias, Gai Barone, Nick Devon, Sezer Uysal, Marc Poppcke, Dale Middleton, ZIGER, Mariano Mellino, Marten Sundberg, Talul, ao
The latest release on Tash's Movement Recordings finds MRTNZ and Lack of Fate presenting their debut EP. Hailing from Spain, MRTNZ made his first appearance on the label just last month with a contribution to the 'Technical Progress' Vol. 7 Collection while Lack Of Fate makes his much anticipated debut. Collaborating for the first time the duo present 'Antia' and 'Nocturnal' alongside remixes from Paul Anthonee and Pat Siaz.
Beginning with 'Antia' you get a sense of what a great meeting of the minds this project is. Clocking in at ten minutes it's an odyssey through astral arps, cosmic motifs and emotive soundscapes. Two breaks shift the narrative nicely with smooth rhythms and warm rushes carrying the journey to a dreamy third act finale. The companion piece 'Nocturnal' comes in darker, moody and equally brilliant. In keeping with the dreamy narrative the duo concoct an array of vibrant tones and mallet motifs over a smooth yet buzzing foundation. Metallic designs light up the atmosphere before a lengthy break pulls emotional energy into the core. Two wondrous creations from MRTNZ and Lack of Fate.
The lone interpretation of 'Antia' is provided by Paul Anthonee who is making his debut on the label. Hailing from Cyprus, Paul is best known for his releases on the Greek imprint Us and Them Records where his take on deep, techno has flourished. Now making his much anticipated debut on Movement Recordings Paul takes 'Antia' into a headier more techno inspired space. With the melodies dubbed down, indistinct motifs, spacey effects and a sonic sprawl prove impactful before a solemn break further mystifies the senses, on to a big conclusion.
The lone interpretation of 'Nocturnal' is provided by Pat Siaz who is making his first appearance on the label. Panayiotis Patsias aka Pat Siaz hails from Cyprus and has been pushing his unique brand of melodic techno since 2014. A string of quality appearances on Sound Avenue, Bullfinch and Animate Dummy highlight his well kept discography. Now making his much anticipated Movement Recordings debut Pat puts his own unique twist on 'Nocturnal'. The dynamic kicks and metallic designs immediately illuminate your mind while a trail of eerie effects develops a mystical storyboard. Refinement is the key and Pat has it in spades where spiralling designs and haunting tones steal the air on this unforgettable trip. A dose of fresh talent and new faces make for another inspired offering from Tash's Movement Recordings. Don't miss it.


Mastering by Movement Mastering
Release PR by Mitch Alexander
Promo Campaign by SMP3
Artwork by MJD Creative
Media by Split Atoms